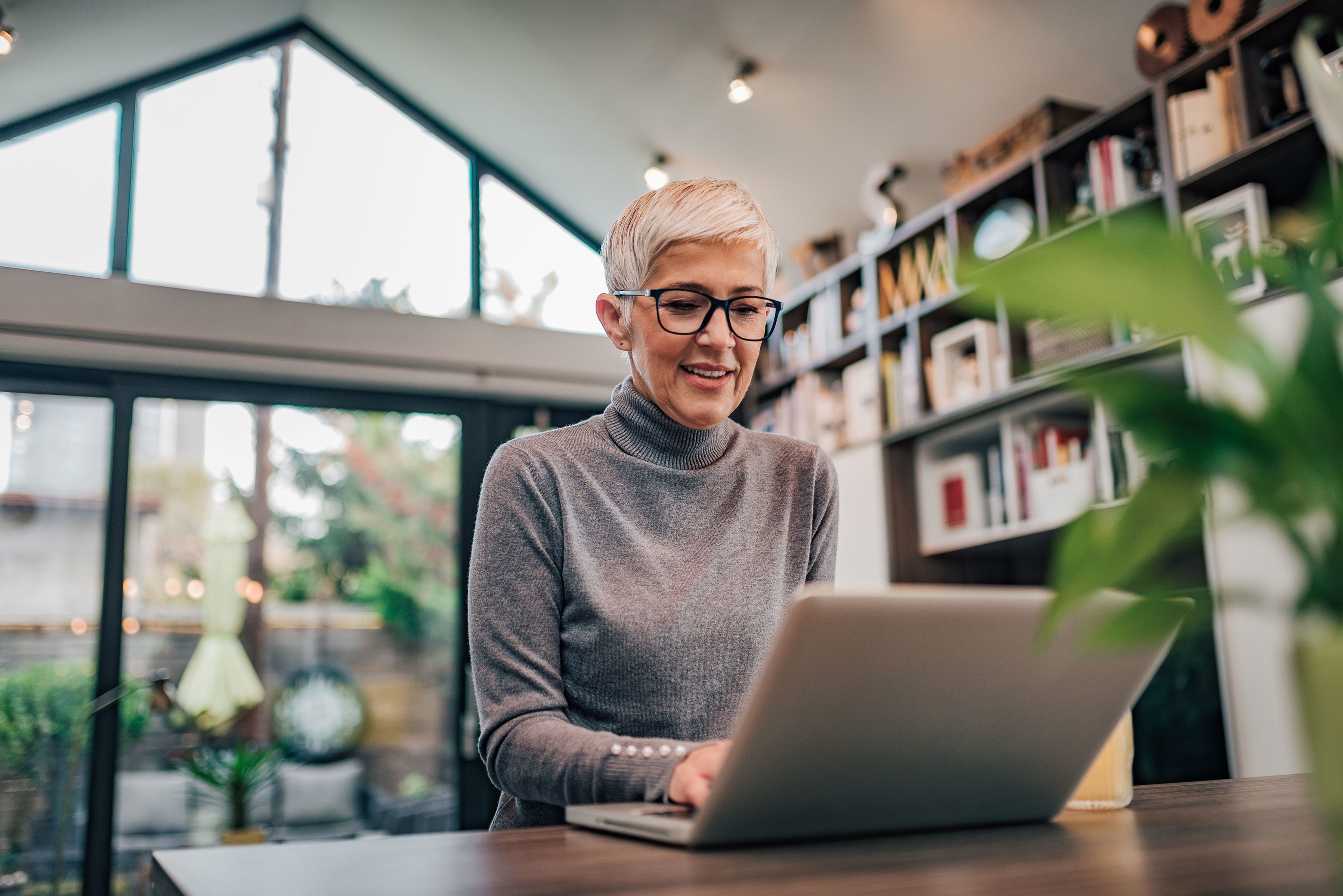 A third of seniors over 65 use some form of social media, and the number of seniors online grows every year. Many residents of Overture apartments use social media to stay in touch with distant friends and family, organize social events, stay up-to-date on the news, and, yes, watch cute kitten videos ( watching cat videos online transcends generations).
Social media has its drawbacks, however. Scams, identity theft, and misinformation all muddy the social media waters. Fortunately, a few simple steps help you minimize your risk of online threats so you can use social media for its original purpose: bringing people together.
Here's a quick guide to social media for older adults.
Use Social Media Privacy Settings
Some types of social media, such as X (formerly Twitter), work best when all users see your posts, but almost all social media platforms allow you to change your privacy settings. For instance, Facebook privacy settings allow you to restrict your posts so only your Facebook friends see your updates and pictures.
Leaving your social media profiles completely public has some benefits. You can meet some fascinating people online. However, a completely open profile can become a target for scammers, who see seniors as vulnerable targets. Restricting access to your profile through your privacy settings reduces this risk.
Choose Your Friends Carefully
A social media profile is nothing without friends to chat with and share ideas, jokes, and stories. You should, however, be selective about who you befriend online. Real-life friends and family who use the same social media channel will probably ask you for invites, but you'll also get friend requests from friends of friends, as well as strangers.
Learning which friend invitations you should accept is an essential aspect of social media for seniors. When you receive a friend request from someone you don't know, take a moment before you hit the Accept button. Check out the person's profile to see if you have mutual friends and if you want to interact with that person. You're not obligated to accept a friend request unless you want to.
Be Careful What You Share Online
Sadly, some social media users will abuse your personal information given a chance, so be careful what you share in your social media posts. Watch out for quizzes or posts asking you to answer silly questions—often, such quizzes ask for information scammers can use to guess your online passwords.
Private Messages
Rather than have public conversations with people on social media, use private messages whenever possible so only you and the other conversation members can access the message thread.
Watch Out for Scams
Most social media users are there for the same reasons you are: to connect and interact with other people. A small percentage of users are scammers, however. Scammers may use fake accounts, or "bots," that use computer programs to try and trick people into thinking a real person uses the accounts. Bot accounts often spam social media with scam messages, usually with a link in the message that requests personal information or money. Avoiding clicking on links from unknown users is the best way to avoid such nonsense.
Online scams are easy to identify if you know what to look for. Requests for personal information and pressure to act quickly characterize scams, as do claims you've won prizes for contests you never entered. If a scammer wants you to send money, they insist it be sent by wire transfer or gift card, which are difficult to trace.
Best Social Media for Older Adults
Social media platforms often have a generational divide. For instance, TikTok is currently the platform of choice for teens and young adults. The platform has older users, but it's not always accommodating to older adults, especially those just beginning their social media journey.
The most popular social media for seniors remains Facebook. Facebook is easy to navigate, allows you to control your online privacy, and offers access to people worldwide. You can also use Facebook Messenger to make video calls to other users.
YouTube is another popular social media site for seniors. While most people consume media on YouTube, you can upload your own videos for public or private viewing. Instagram makes sharing photos with friends easy, and is run by Meta, the same company that owns Facebook.
Social media for older adults provides an online sense of community and togetherness. Overture senior apartments also provide community and a chance to make new friends. Our 55+ communities offer comfortable, beautifully designed apartment units, resort-level amenities, and an ever-changing list of activities for our residents. If you're interested in joining a community of people who share your life experience, check out our Overture Apartments Near Me page for more information.